Our Facilities
High Performance Modern Logistic
Home / Why With Us
1. Argo Approach as Our Way
Before submitting a plan for the supply chain, our focus approach is to understand the problems and needs of your business first. We understand that your supply chain system is something unique. We listen and learn, so that we can provide solutions that fit to your needs, business scale and market you're in.
After that, through a project management methodology, we will ensure that the supply chain solutions that we offer are tailored with your schedule and costs so thaat it can be easily implemented. During the operation of supply chain progress, improvement and innovation continuously will be done to make the whole operation more effective and efficient.
Our supply chain solutions range from planning, purchasing, production, storage, configuration and delivery after sale. You can count on Logistic by AMG for the provision of comprehensive supply chain solutions that can be applied across the industry, in all environments, in all conditions.
EXPERIENCES : Our experiences, Technical Logistics knowledge, Local knowledge of the industry is proven. We are one of the successful and experienced local warehouse Logistics providers in Indonesia.


PEOPLE : Committed and experienced team of professionals. We will provide Customers with experienced key personnel like managers, supervisors, reach truck operators; etc., from our current staffing and other sources. Continuing training is built-in into the service organization. Logistic by AMGs will align with the business targets of Customers – our targets and yours are one.


CAPABILITY AND COMMITMENT : We continually invest in material handling equipment, transport equipment, IT, people development tools and other supply chain technology when it can increase productivity and efficiencies.


SAFETY, HEALTH AND ENVIRONMENT : We are committed to safe handling and delivery of partners' products. We serve companies that have very stringent DC and transportation safety requirements due to the nature of their goods.


SERVICE EXCELLENCE

:

Client-based organization that ensures a high level responsive communication channel with a dedicated person in charge.


Solution Design of Your Supply Chain : Logistic by AMG has experience in design supply chain solutions which is focusing on what and how supply chain systems are best for you. The Logistic by AMG team will examine all aspects of your logistics operations and use additional devices that can reveal the advantages and challenges that will be obtained.


Excellence Implementation : Cooperate with your team, together we determine the optimal network solution for your business, optimize operating costs, transportation, and supply of products. We will start by identifying the most adequate location and means of transport that needs to be used.


Operation and Improvement : Logistic by AMG, we believe the skills and experience of the team in the supply chain is the main capital. And this will have huge implications for supply chain excellent operational performance if well-combined with technology, warehousing facilities, transportation and intermodal systems.


Merging Technology : Either we build a system for you from scratch or using a system that you currently use, Logistic by AMG's IT services are designed and implemented in a consistent, high-quality and cost-effective way. At Argo Group, we are aware that the technology follows the business needs, and not vice versa. Team Logistic by AMG uses project management to run IT projects according to the time plan, cost and expected quality. Logistic by AMG will focus on what best IT products for your product.


Quality Assurance : Logistic by AMG we believe, we cannot achieve quality if we cannot understand the meaning of quality for you. So Based on ISO 9001: 2000 standard, quality assurance Logistic by AMG is focused on the consumer, the involvement of co-workers and continuous improvement. Each project site will be assessed each month; the results will be assessed by the management team in order to repair work, For this, Logistic by AMG always strives to always improve the quality of work.


Performance Measurement Work : We will not be able to achieve quality work if we do not understand the actual quality. So we start by learning your expectations, your business goals and rules that apply to assign work performance in every process. With Performance Measurement We Can: Engage operational teams to understand her work performance, Demonstrate work processes that need attention, understanding customer needs.



Group of Skilled and Dedicated Team for Your Logistics Need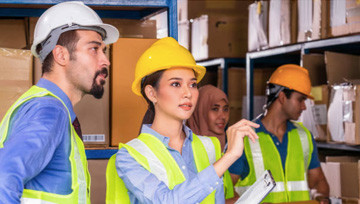 If your business requires specific solutions, we have personnel and expertise that fits your needs. Starting with analyzing the specific needs of your business, our team will design, implement, operate and repair the operating system of warehousing and distribution to provide added value to your business.
Logistic by AMG has expertise in the industrial and logistics field that can assist you adapt quickly to the changing business world. Our goal encompasses all sections, starting from specifically looking for the right location warehousing, designing solutions, project management, repair work until the recruitment and training process.
Logistic by AMG's solutions will be tailored to your specific needs, such as warehousing and distribution facilities that can fully use our properties or yours by still keeping the improvement and optimization in existing logistics facilities. Logistic by AMG services will include:
Design and analysis solutions to develop your framework business that can follow your business's time plan.

Selection of appropriate warehousing locations in order to provide a balance of labor, activities distribution and warehousing location.

Dedicated or shared transport solutions tailored to your needs

Running best operational processes, control and information management.

Using a project management methodology to reduce the risk, cost and time of project implementation.

Using the warehouse management system to improve productivity and speed up the start of the operational system of warehousing.


2. Logistic by AMG Direct Business Support
800.000 m2 of space
With spacious storage room, we believe it will be one most import support for our clients to make the business growth.


Competitive payment
Cash is king for business, we try to "present" in this condition in front of clients to support, so we try to make a competitive payment.


Customizable
Our all warehouse 12 cluster location, we designed to customize and suit clients needs.


Expandable
With our current spacious warehouse, and we keep expanding our new warehouse, it gives direct support to clients, so if you want to expand, come to me.


High Electricity Opacity
Power & energy is one of the most important foundations of business, and with our long experiences in Industry, we try to support you with high electricity as foundation.



3. Logistic by AMG Facilities & Support
Waste Treatment
This is one of our special features, we have a waste treatment unit in each of our warehouse locations, so if you need it, we will help you.


Security
We provide additional security to secure your asset and your business operation in each of our properties.


Access
You could request, if you need conditional access that supports your business operation, come to us, we will arrange and provide it best.


Cleaning
Cleaning arrangement, This is an additional feature. We have resources to settle daily cleaning, clean work areas will increase your productivity and convenience for all.